Booth
Booth Package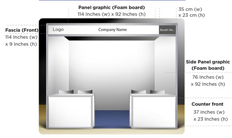 (Click picture to magnify)
USD 5,500
Inclusions:
One free event pass
Full graphics design, and printing for booth panels
One Full Page Color advertisement in event directory
(size: 14.8 cm x 21cm / 148 mm x 210 mm, 300 DPI or above)
One booth structure, 3.0 m x 2.0 m with 1, 2 or 3 panels depending on booth location (graphics design and panel printing included)
Booth setup and removal
Booth space
Two counters with printable fronts (graphics design and printing included)
Four chairs (inside booth) plus Four chairs for guests
Fascia with company name and booth number (text only)
Booth carpeting
Booth lighting
One power socket
One waste bin
Click here to view actual booth samples from previous conferences
HOW TO RESERVE A BOOTH
Booth reservations can be done online by using the Shopping Cart (under Conference Details menu) or simply click on any of the  buttons on this page.
Booth reservations must be made through the conference website.
Follow the online instructions and please be sure to enter the correct information.
Booth Reservations will be handled on first come first served basis. Priority will be given to booths reserved online.
PAYMENT
After reserving your booth online, an invoice will be emailed to the email address you provided during the registration process.
Payment should be made as soon as possible. In case booths are fully reserved, priority will be given to those who are willing to pay first.
Payment in USD can be made online via credit card. Should you wish to pay by other means then please send an email to accounting@sinoconference.com so that we can provide you with alternatives.
Payment in RMB can be made through CIFA. Please send an email to conference@cifa.org.cn for more information .
CANCELLATION POLICY
| Cancellation Date | Cancellation Charge |
| --- | --- |
| Up to and including Friday, 4 October 2019 | No charge. Full refund provided |
| After Friday, 4 October 2019 | Charged 75% of the total booth package price |
For refunds on registration fees, accommodations, sponsorship packages, advertising or other optional items, please see the individual web pages dedicated to the particular item.
CONTRACT CONDITIONS, RULES & REGULATIONS FOR EXHIBITORS
IMPORTANT: All exhibitors must read the Contract Conditions, Rules & Regulations for Exhibitors before placing a booth order. We will not be held responsible for any misunderstandings resulting from your failure to do so. Click here to read.

For additional information please contact conference@sinoconference.com